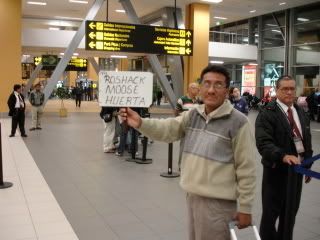 A development trip to visit our tee shirt and sweatshirt manufacturers placed my co-worker Steve Green and I on the beautiful shores of Lima, Peru. After clearing customs Steve said "Hey that guy is holding up a sign that says Moose Huerta" I felt like the Fresh Prince of Bel-Air, and after a 30 min drive we arrived at the illustrious Hotel Olivar.
"I yelled to the driver yo holmes smell yah later. I looked at my kingdom. I was finally there to sit on my throne as the Prince of Bel-Air"
, well room 322 at least...
::Con Queso?::
We spent four days with the boys over at American Flex Printing. We never had much direct dialogue with the team; mainly because of the cultural divide between the indigenous Peruvians and the Peruvians of European descent. As much as Steve and I wanted to bro-down with the fellas we realized we needed to earn their respect. So after four days of my gringo Spanish we shared a few laughs. Usually at our expense. In fact the biggest laugh we got was when our buddy Luis Angel tried to describe to Steve how to say turquoise in Spanish (which is pronounced Tor-que-sah.) I thought he said "con queso" which translates to "with cheese" and I said it out loud. That one really brought the house down especially when I tried to play it off.
::Vamos a la playa::
My mother was born in Bolivia and the first time she saw the ocean was in Lima. She always describes it as one of her more frightening experiences , because as a little girl the waves seemed so gigantic. I packed my wetsuit hoping to rent a board and catch one of these Goliaths in my down time, but that never happened. In fact our only salvation was that Peruvians hold lunch and dinner very sacred. Had I suggested having a working lunch or dinner I may have gotten smacked in the mouth and rightly so. Maurice our Peruvian liason "unofficial mayor of Lima's textile industry" lead us in a sprint down to the beach right before sunset one evening to get a quick glimpse of lay out. Maurice also took us to a skate park but only for us to discover a series of decrepid ramps. You can bet 100 soles that the next trip will strategically be placed between two weekends of decadent leisure. Until then I will be dreaming of Inca Cola and Lomo Soltado, or maybe Ceviche with a Pisco Sour depending on my mood. Ay dios mio.. Hasta la proxima vez, Peru!